Surface area - 33,750 Acres
Date Impounded - 1965
Location - Located 55 miles southeast of Dallas off U.S. Highway 175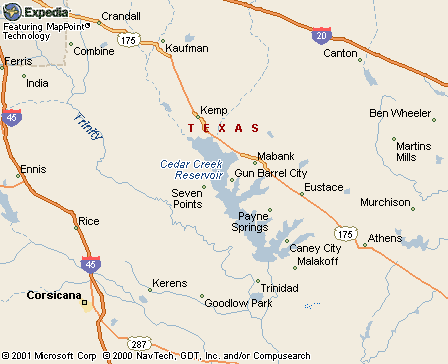 Cedar Creek Lake
Huge 33,750-acre impoundment operated for recreation and Fort Worth municipal water supply. Nestled among post oaks and pines, the lake offers numerous campsites, picnicking areas, excellent fishing, with record fish: largemouth bass, 12 lbs.; channel catfish, 19.76 lbs.; flathead catfish, 27 lbs.; and striped bass, 18.56 lbs.; swimming and boating; one of the most popular in North Central Texas. About 10 miles west of Athens north of Texas 31, also accessible from Malakoff, Trinidad, Kemp and Mabank.


Hot Properties
Top Agents